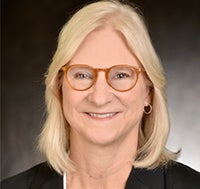 Chris Dunkel Schetter
Associate Vice Chancellor for Faculty Development
Professor of Psychology and Psychiatry and Biobehavioral Sciences
Appointed in July, 2015 by Vice Chancellor for Academic Personnel Carole Goldberg, Professor Dunkel Schetter is working to enhance our faculty development programs.  She is responsible for the Council of Academic Advisors program which matches Assistant Professors with senior mentors in different but related fields and she is available to provide one-on-one counsel to junior and midcareer faculty.  With Vice Chancellor Michael Levine, Dunkel Schetter is also working to enhance our orientations and workshops for new and existing faculty, department chairs and deans to provide up-to-date knowledge of current academic personnel processes and university programs. In addition, AVC Dunkel Schetter is promoting the quality and usage of our faculty work-life programs.  Other issues with which her office will be concerned are fellowship and support programs directed at Assistant Professors, programs for Associate Professors and our campus initiatives under Vice Chancellor Jerry Kang of Equity, Diversity, and Inclusion.
 
With over 30 years at UCLA beginning as an Assistant Professor, Chris Dunkel Schetter has accumulated a distinguished record of research, teaching, and service on campus including a history of devotion to mentoring undergraduates, graduate students, postdoctoral scholars, and junior faculty, and a commitment to diversity training and research. Her goal is to create a culture of excellent mentoring across the campus as one of our hallmarks and to improve programs for dual career couples and families.
 
She is available to Academic Senate faculty and administrators throughout the campus by email at cschetter@conet.ucla.edu and by phone at (310) 206-5730.