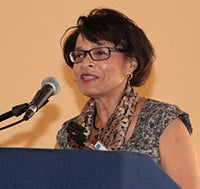 Belinda Tucker
Special Liaison for Faculty Development
Professor Emerita of Psychiatry & Biobehavioral Sciences
Appointed in 2018, M. Belinda Tucker, Professor Emerita of Psychiatry & Biobehavioral Sciences, has been appointed Special Liaison for Faculty Development.   In this newly created position, Tucker serves as an advocate to faculty who need guidance on a wide variety of academic matters related to faculty welfare and advancement, including issues of climate and harassment/mistreatment.  She will meet one-on-one with faculty regarding concerns, listen to the issues brought forward, assess situations, present available options to faculty, and refer them to the appropriate channels. Although conversations with faculty will be strictly confidential and independent from the Academic Personnel Office (APO), Tucker can also identify general areas of concern in order to enhance the development of successful programming and policies in APO.  She will also collaborate with the APO in developing and implementing initiatives serving the best interests of faculty and faculty diversity. 
Tucker trained as a social psychologist and survey research at the University of Michigan and joined UCLA as a research psychologist in 1978. Tucker has enjoyed a long history of administrative service at UCLA, including Acting Director of the Center for Afro-American Studies (1989-91) and Associate Dean in the Graduate Division (2007-11).  From 2011 - 2016, Tucker was the inaugural Vice Provost of UCLA's Institute of American Cultures, where she oversaw the operations of the ethnic studies research centers. Tucker has played a significant leadership role in the development of critical campus-wide initiatives (now studied nationwide) to enhance the climate for diversity at UCLA. She also just completed a several year term as President of the Faculty Center Board of Governors.
On the academic side, from 2003 – 2009, Tucker was the national director of the Family Research Consortium IV, a U.S. based collaborative network of scholars focused on family mental health, and its affiliated national postdoctoral fellowship training program, funded by the National Institute of Mental Health (NIMH) and the Robert Wood Johnson Foundation. For over 30 years, Dr. Tucker has examined the nature of close-personal relationships in sociocultural context, using both quantitative and qualitative research methods in national and local studies and has authored numerous publications on family formation, couple relationships, inter-ethnic relations and research methodologies.
She is available to Academic Senate faculty and administrators throughout the campus by email at btucker@conet.ucla.edu and by phone at (310) 206-9379.