UCLA is seeking outstanding applicants for faculty positions at all levels who want to join the excellent faculty, administrators, and staff and help us meet our educational goals. UCLA, known for its academic excellence, is devoted to undergraduate and graduate teaching, research, and public service.
All academic jobs are posted at UCLA Academic Recruit .  Visit https://recruit.apo.ucla.edu/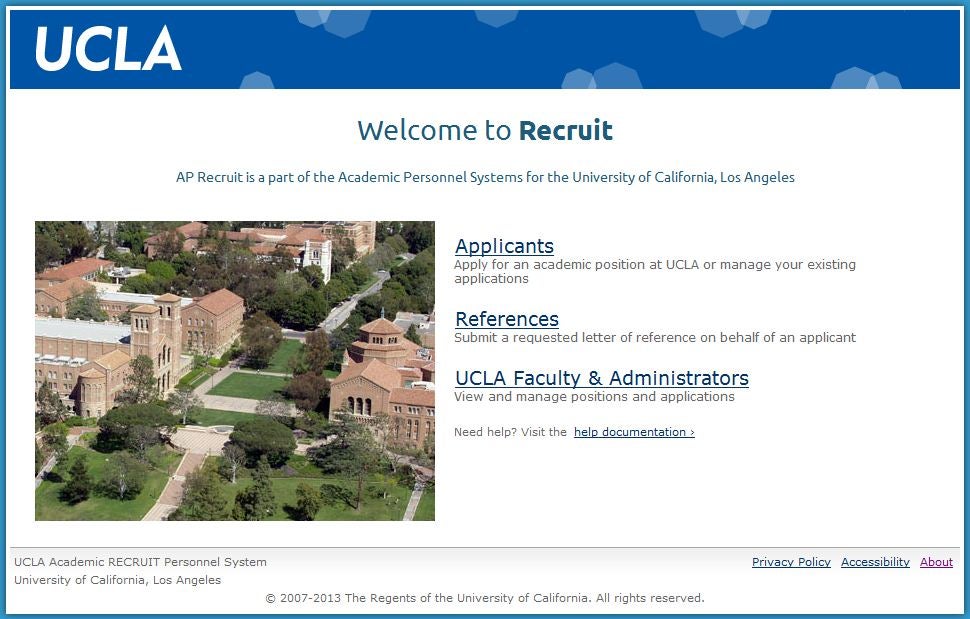 UCLA is a member of the Southern California HERC -- Higher Education Recruitment Consortium. HERC is a compilation of approximately 28 Universities and colleges in Southern California listing each institution's academic and staff positions. The service is free and you can sign up to get email alerts when a job meeting your specifications is posted.  Visit http://www.socalherc.org
Important Notices
H-1B and E-3 Labor Condition Application (LCA) Postings
Please see the LCA postings page provided by the Dashew Center for International Student and Scholars on the Center's webpage. Candidates have already been selected to fill the positions; the Notice of Intent to Hire is not a posting for an open position.
Other Links